Drain your own leg bag without assistance.
With the JB-3 Leg Bag Emptying System you can easily and discretely empty a leg bag yourself.
If you require a leg bag and urine catheter or a urostomy pouch and are currently unable to drain it without assistance, you need to learn more about the JB-3 Leg Bag Emptying System with its "Easy Pull" manual activation.
Regardless of why you are in the wheelchair, if you are using a manual wheelchair or a power wheelchair that you control through a joy-stick, you very likely will be able to use the JB-3.
Here's how it works: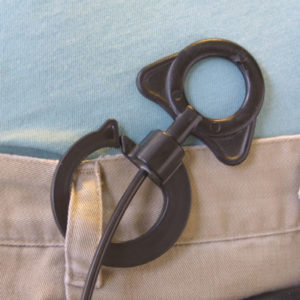 The Belt Loop and the Pull Ring are made from the same material as bullet proof glass. The Pull Ring was designed for two-finger pulling control, and is easily grabbed on the outside. The Belt Loop holds the sheathed cable, which in turn activates the Plunger.​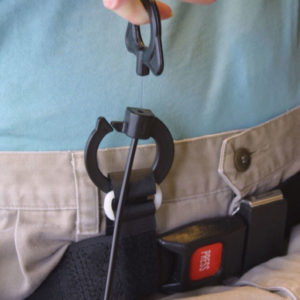 If you don't want to attach the belt loop to your pants, you can attach it to your chair's belt, among other places. The Cable Sheath can be routed down the pant leg or under a dress to be totally discreet.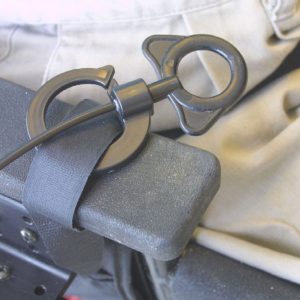 Or you can attach the Belt Loop to your wheelchair with the Velcro(R) strap that's included. This allows for easy removals and chair swaps, without damaging your chair or getting in the way of daily living.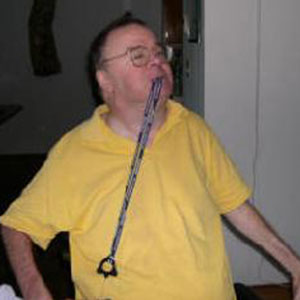 If you think that you don't have enough strength, you're wrong! The Pull Ring can be activated by you pulling on it with your neck muscles. The JB-3 Leg Bag Emptier is designed to be activated with less than 3 pounds of pulling force and drain 750ml of urine in less than 30 seconds.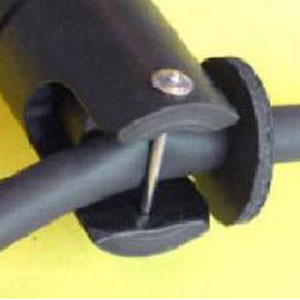 The business end of the JB-3 is the Valve itself. In this picture the Plunger is being pulled back by the Cable, allowing the urine to flow out the end of the Black Drain Tubing. All components in the JB-3 Leg Bag Emptier is made of stainless steel and quality plastics for years of reliable use.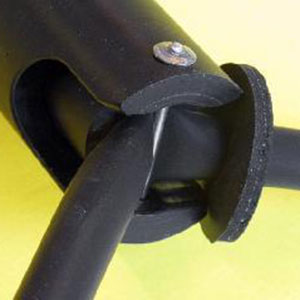 The above picture shows the JB-3 Valve in the closed position. The Plunger is pressing the Black Drain Tubing against the stainless steel Clamping Bar creating a completely leak free seal. There is no body fluid contact and therefore nothing to plug or corrode.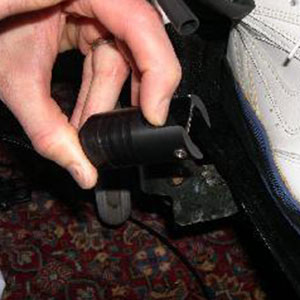 To insert the supplied Black Drain Tubing you only need to push the plunger back with slight pressure of your finger. The Black Drain Tubing slips between the Plunger and the stainless steel Clamping Bar with no trouble at all. It's just that easy.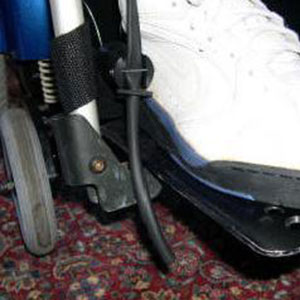 This is how the Valve looks when it is in actual use on a person in a wheelchair. The supplied Black Drain Tubing should be positioned so that it will not drain on the foot rest of course. Generally the pant or dress of the wearer will cover up the valve, and the tube is all that is showing. The kit comes with 5 feet of Black Drain Tubing, more can be ordered from our website. Only 6 inches of Black Drain Tubing is necessary at any one time in most installations.
Having more independence improves your life, and the lives of your care givers.
Imagine being able to be unattended for hours at a time! Read some of our real testimonials to help you understand how we've changed other people's lives for the better. To see how easy it is to install, our 14 page manual is also available on-line.
The Benefits of the JB-3 Leg Bag Emptier also include:
Improved Health
Besides giving you more independence, we may be able to help improve your overall health. Proper hydration is part of a good health regimen for everybody, but especially if your health is already compromised. If you increase your fluid intake, there is a possibility that you can reduce your chances for Urinary Tract Infections (UTIs).
Simple Durable Design
The JB-3 allows you to drink all the water you want without worrying about over-filling your leg bag or having the electrical emptier batteries fail when you need them most. Unlike electric leg bag valves there is no solenoid to stick and no wires to break, no leaking, no dripping and no expensive parts to replace. You don't even have to attach it to the wheelchair, so it makes transferring easier.
Satisfaction Guaranteed
If you're still not convinced or if you have any other questions, contact us. We have a 60 day satisfaction guarantee. If for any reason you don't want to keep the JB-3, just let us know you want to return it, and we will refund your money (excluding the Shipping & Handling charge).