Repair or Refurbish Your JB-3 Leg Bag Emptier
While the JB-3 is built to be as indestructible as possible, it may need to be thoroughly cleaned and brought up to new standards if it's been in service for more than a few years.
Need to Refurbish Your JB-3?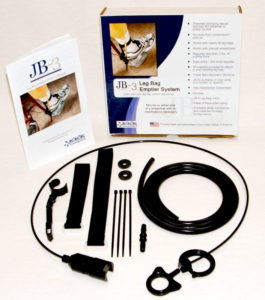 We provide you with the ability to send us your JB-3 for a thorough evaluation and fine tuning. With this option you receive a full 1-year Manufactures warranty all over again!
All worn or weakened parts are replaced which may include:
Pull Ring and Finger Loop and Cable
Belt Loop
Cable Housing
Spring
Adjustment Screw
Clamping Bar
Plunger
The cost to Refurbish your JB-3 is $49.95 (plus shipping), and includes a loaner JB-3 if requested. Refurbishing takes 2-3 weeks to complete. Click the button below and complete the Service Request Form to get the process started. You will be billed for your refurbished device upon completion.
Need to repair your JB-3?
Request a repair if any part of your JB-3 is broken. The repair can include replacing only the part that is broken: Belt Loop, Pull Ring, Cable, Cable Sheath assembly (Adjustment Screw and Cable Sheath), Plunger Assembly (Plunger and Clamping Bar). The unit will be thoroughly cleaned and tested. Please note that the Valve Body is not refinished to remove scratches. Repair does not include replacement of the Valve Body. A 1-year-warranty is included on all repairs/modifications that are done.
The cost of the repair is dependent on the type of work necessary, but ranges from $27.95 to $49.95 (plus shipping) and we will give you an estimate before we begin the work. You can request a loaner while we make the repairs, and we will bill you upon completion. Click the button below and complete the Service Request Form to get the process started.
Request a "Loaner" while yours is in the shop for shorter downtime!
We understand how frustrating it can be to have your daily routine interrupted while you wait for your JB-3 to be repaired, so we provide a service that very few urinary drain devices will give you. We can send you out a "Loaner" JB-3 while your JB-3 is getting refurbished or repaired. If you request this option you can be back to your routine within just a few days instead of weeks.
A loaner will be sent out to you with expedited shipping and the cost of the shipping ($19.95) will be added to your repair bill. If determined that the product was defective, shipping and handling will be refunded. All repairs and shipping invoices will be sent to the email provided in the request. Please make sure we are able to get through your spam filter.
All payments are due upon receipt of repaired items. Loaners are available only in the United States and please understand that we have a limited number of loaners, so they are only available as supplies last. Loaners are only available to current owners of JB-3's