While the JB-3 is built to be as indestructible as possible, it should be maintained and may need to be thoroughly cleaned to keep working like new.
Maintaining your JB-3:
Your JB-3 Leg Bag Emptier requires almost no maintenance. Periodic cleaning of the Valve Body and Plunger in warm soapy water is all that is needed to keep the valve functioning properly. See "Cleaning the Clamping Area of the Valve Body" in the "Troubleshooting" section (Page 14). 
The only adjustment required is to the clamping force by use of the Adjustment Screw/Cable Sheath Assembly (Figure 2, Items 3 and 4) . If there is still dripping after tightening the clamping force 2 full turns, then there is something else wrong that is causing the dripping and you should refer to the "Troubleshooting" section (Page 13).
Often a simple slight pull of the Black Drain Tubing to straighten and align it in the clamping area is all that is required to stop minor leaks.
The JB-3 Leg Bag Emptier is made of Delrin, polycarbonate, nylon, and stainless steel. The plastics were chosen for their lightweight and chemical resistance properties. Be very careful not to damage the plastic components of your JB-3 Leg Bag Emptier. Screwdrivers or pliers can mar or damage the plastic components and lead to failures.
Do not put the Cable under the seat or where the tilting mechanism may damage it. If the Cable is crushed, the result is resistance when being activated and leaking when released.
Make sure the drain tubing is not crimped above the Valve Body. Crimped tubing can cause a significant increase in the time it takes to drain your bag.
To prevent accidental breakage, please don't force the Belt Loop onto objects wider than ¼ of an inch. If you need to attach the Belt Loop around objects that are thicker than ¼ of an inch, like part of your wheelchair frame, use the supplied Velcro® Strap to wrap around the wheelchair frame, then slip the Belt Loop onto the Velcro® Strap. Refer to Figures 15 and 16.
To help prevent the "C" Bracket from breaking, it is best to slip the "C" Bracket onto the Valve Body from the tapered end, and then slide it up until it clicks into place. To remove the "C" Bracket, reverse the procedure. This eliminates excessive spreading of the plastic.
Warranty Service & Replacements
Please ship all other returns postage paid. It is highly recommended that you also insure all packages since we will not be financially responsible if your package is lost.
JB-3.COM is responsible for all warranty replacement and repairs regardless of where you purchased the JB-3.
Please call 1-888-767-1924 to arrange for warranty service prior to sending the core exchange package.
Damaged or incomplete shipments must be reported within 10 days.
Shipping damage should be noted to the carrier at the time of delivery. In the event of damaged delivery: Indicate damage on the delivery bill and have it signed by the driver. Contact our customer service departmentto have a replacement order sent.
We send you a fully factory-refurbished JB-3 before you send us your core exchange, also known as "Up-Front Shipping with Core Exchange Option". For this EXPEDITED SERVICE, there is a refundable core charge invoice that will be sent to you. Core deposits will be refunded in full if we receive your matching core within 60 days, and the cores are undamaged If you return the core later than 60 days from receipt of your rebuilt JB-3, $10 per month will be subtracted from the core refund.
 ONLY ship the JB-3 CORE back to us. As shown here –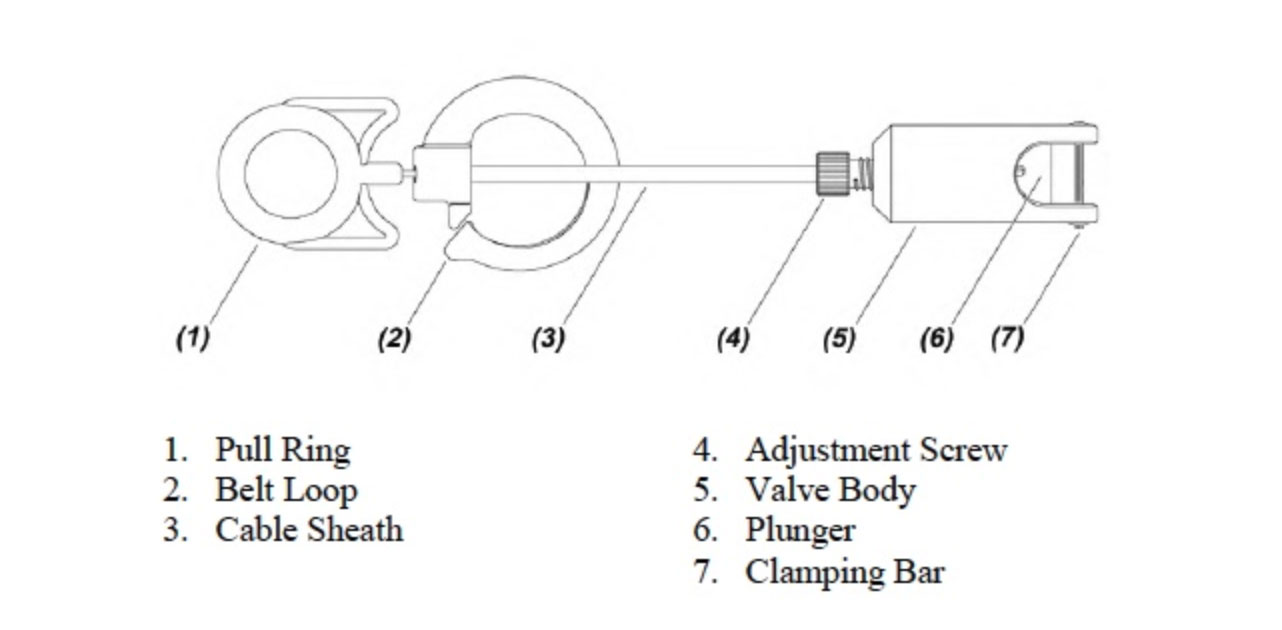 Disclaimer:
A refundable core-charge of $250 is required to be paid in full before a replacement unit is sent. Upon receipt of your JB-3 Return Form, an invoice will be emailed to you. *NOTE: If you cannot afford the $250 core-charge, please call us at 1-888-767-1924 and we will arrange a repair of the unit you send back to us and determine the costs upon inspection of your returned JB-3.
Please allow 7-10 business days for determination of your core charge refund amount. An email will be sent with our determination prior to issuing the core-charge refund. If the clamp body, plunger, or adjustment screw are damaged beyond repair, your refund will be reduced to cover the manufacturing cost(s) of the damaged component(s)

Clamp body – $48
Plunger – $28
Adjustment screw – $14

Your replacement unit will be a fully refurbished JB-3 that includes ALL new parts with the possible exception of the clamp body, plunger and adjustment screw!
NOT covered under warranty (and available for purchase as "consumable items", just like tires and oil filters of your car..)

C-brackets
Velcro straps
Drain tubes and connectors

All shipping and handling costs will be paid by the customer.
Need to repair your JB-3?
Request a repair if any part of your JB-3 is broken and you are either not comfortable participating in the core-exchange program OR your JB-3 is 3 years old or older and it is no longer covered under warranty. 
If your JB-3 is older than 3 years, you may still participate in the core exchange program but you will be charged (parts and labor) depending upon the condition of your returned core: the cost will be between $49 (assuming all parts are able to be remanufactured) and $119 (assuming none of the parts can be remanufactured) .
The cost of the repair is dependent on the type of damage found. If we need to replace the main components of the valve body due to accidental misuse or damage due to use NOT in accordance with the Instruction Manual, we will charge the following:
Clamp body – $48
Plunger – $28
Adjustment screw – $14
Click the button below and complete the Service Request Form to get the process started.